☎ Trick out Oppo screen lock password if forgotten
| | | |
| --- | --- | --- |
| OctaFX Broker | No Swap, Top 1 Malaysia, Indonesia | |
| IQ Option | Top 1 binary option, Give $10,000 demo account | |
| Vultr VPS | Start $2.50/month. Give $100 today | |
| Nord VPN | Get 70% off | |
Most current Smartphones in general and in particular Oppo have screen lock function with password security to privacy for users, however, because many cases of negligence that we were forgotten password and no can unlock the machine to use.
Trick out Oppo lock screen when forgotten password:
Method 1: Perform Wipe data / reset factore
This is done quite quickly but will make your phone return to the state as new buyers, lost data, this only applies to machines with MTK chips.
- We shutdown> Press Volume Up + Power button.
- Recovery mode appears
- Use the Volume buttons to scroll down to wipe data / factory reset, use the power button (Power button) to agree.
- Choose "Yes - delete all user data" and then to the machine reboots.
Method 2: Perform Flash file via Custom Recovery unclock:
This data will not be lost on the machine, but only used for the machines as CWM Recovery Custom, TWPR ... Top Google search for Oppo Unlock file then copy the file to the memory card> Flash as machine type Uprom reboot your machine to enter any code machine will open.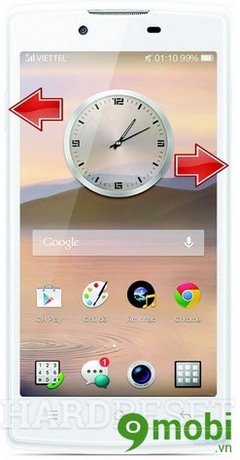 Method 3: Perform the settings to delete files in the phone lock machine
This approach will not lose data machine, but the machine must be root previous success, has install Root Explorer. Open Root Explorer it up and find the path Data / system and set the right R / O to perform a search and perform deleted file named " password.key "for video-alphanumeric password. In case, the password by drawing a grid, then we need to find and delete the file named " Gesture. Key "go. Reboot the machine is finished with a password appears, this time we enter into that character also open.
Above we have to guide you how to open the lock screen when the phone Oppo forgotten passwords, in addition to breaking completed course do not forget to download more games are hot now to play that shot feeding coins and Temple tremor 2
Instructions on how to break the OPPO phone lock screen password
Instructions on how to break the password of the OPPO phone screen lock, how to destroy the fastest OPPO phone at no cost to buy a new phone, Detailed instructions on how to break the password of the phone screen lock OPPO Joy, OPPO Joy Plus R1011, OPPO Joy 3, OPPO Neo 3 R831K, OPPO Neo 5, OPPO YoYo, OPPO Find 5 Mini R827, OPPO Find 5 Mini, OPPO Mirror 3, OPPO Mirror 5, OPPO R1K R8001, OPPO R1, OPPO R5 Gilded ...

Use Smart phones first thing is to set a screen saver password. This is very effective in avoiding others from stealing your phone, but if you forget your password, you are also incapable of controlling it. When a new pass has been changed but the number of lines is long or complex lock is not reminiscent, it is very easy to forget that pass the next day.
When you forget your screen unlock password, make sure you try to break it. Bring out a professional phone repair shop, they will have professional measures to quickly solve this problem. If you do not want to lose the fee, please read how to do it yourself will guide below.

How to break the Lock screen by hard reset the OPPO phone
There is no other way than to give your phone the original factory settings, or otherwise call the Hard reset. When the Hard reset is performed, all the personal data in the phone will disappear with the lock screen password. So you need to consider carefully before doing this.

Step 1: Power off the phone with the hard key, or remove the battery and reinstall it.
Step 2: Hold down the Power button and the Volume down button on the camera body
Step 3: When the phone shakes a little, release the Power button, while Still hold the Volume down key. When the screen shows Select language, release this key.
Step 4: Using Volume Down navigate the light box to English, press the Power button to select it.
Step 5: Again select Wipe date and cache, select Yes and wait for a few minutes for the phone to reset the whole installation
Step 6: Press the Volume down and select Reboot to reboot the phone

So the breakdown process The lock screen password is successful, you have a phone like a new box.
| | | |
| --- | --- | --- |
| OctaFX Broker | No Swap, Top 1 Malaysia, Indonesia | |
| IQ Option | Top 1 binary option, Give $10,000 demo account | |
| Vultr VPS | Start $2.50/month. Give $100 today | |
| Nord VPN | Get 70% off | |