Create a Gmail account on BlueStacks
Video Create a Gmail account on BlueStacks
Related article
With BlueStacks you can use gmail account to synchronize the data on applications. The following article will guide you how to create a new gmail account, you and track offline. Create multiple Gmail simultaneously with BlueStacks without verification Requirements: - Computer (PC or laptop) minimum ram 2G (recommended for use 4G) - BlueStacks Android emulator: BlueStacks Step 1: After installing BlueStacks on PC is complete, you start up from your desktop BlueStacks. Click "Settings" Step 2: Click "Accounts & sync" Step 3: "Add Account" Step 4: Click the "Google" Step 5: "New" Step 6: Here you fill them and the full name and click "Next" Step 7: Enter the new email address. click "Next" Step 8: Enter the password at least 8 characters including letters, numbers and special characters, then click "Next" Step 9: Here, you enter a different email address for service for account recovery if lost. Complete information including email address and a security question then periodically, click "Next" Step 10: Some information of Google, joined google + .... Step 11: And the terms of Google Step 12 : Here you enter the correct words displayed on the screen and then click "Next" Step 13: Set up some information, you can "skip" Step 14: Information on backing up, click "Next" Step 15: So the process of creating your gmail succeeded. But you you still need to verify by phone number before you can use that gmail account. Verify by visiting here then Import the newly created gmail account, enter a password. Then enter the phone number to use Click "Get the code" then Google will keep the activation code to your phone, you need to enter the correct code can then activate your gmail account. Articles on I guide you how to create a new account using BlueStacks gmail simple and easy is not it, in addition you can also refer to a Gmail sign of us here.



UPDATE NEW 2020
REGISTER NICK GMAIL BY BLUESTACKS

Step 1: First, you must have the latest version of Bluestacks on your computer.

- BluesTacks is now considered as the best Android emulator on your computer, in order to use the latest version from the publisher, you should use the Bluestacks function on Taimienphi.vn to find, download and install. order this software.

Step 2: After downloading and installing Bluestacks on your computer, open your Bluestacks and select All Apps.


Step 3: Click on Settings

Step 4: Click on Add account


Step 5: You choose to continue to Google .


Step 6: Continue to select Sign in


Step 7: In the left corner you click and select Brower sign-in.


Step 8: Choose Create account.

Step 9: After completing the required blanks, click on Next step .


Step 10: Enter the phone number to activate gmail.


Step 11: Enter the code you just sent to your phone to activate.


Step 12: Click next until you finally have completed the registration of gmail.

Update new 2021
How to login to Google Play Store on BlueStacks 4
How will this help?
This step-by-step guide will help you with the Google sign-in process on BlueStacks.
Here's how signing in with your Google account benefits you:
You get access to millions of apps/ games available on Google Play Store and other services of Google on BlueStacks.
Save/retrieve games progress across different devices for various apps and games.
In-app purchases require a Google account.
---
How to login to my Google account on BlueStacks?
1. Install and launch BlueStacks. On the first launch, it will ask you to sign in with your Google account, as shown in the image. Please click on the Sign-in button.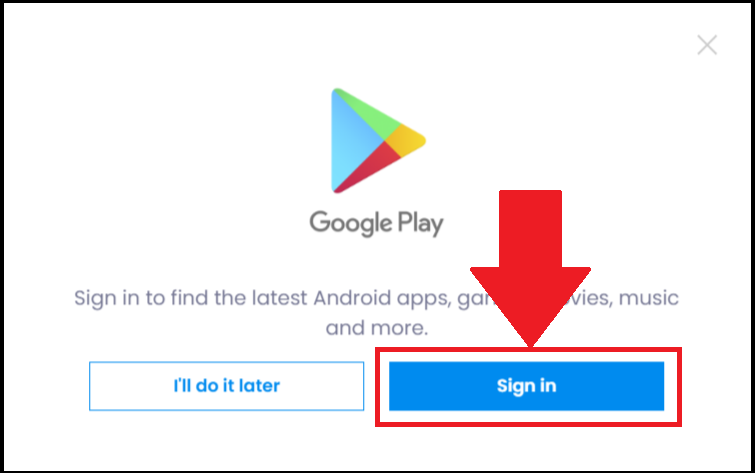 2. This will open the Play Store app. Click on the Sign in button again, as shown below.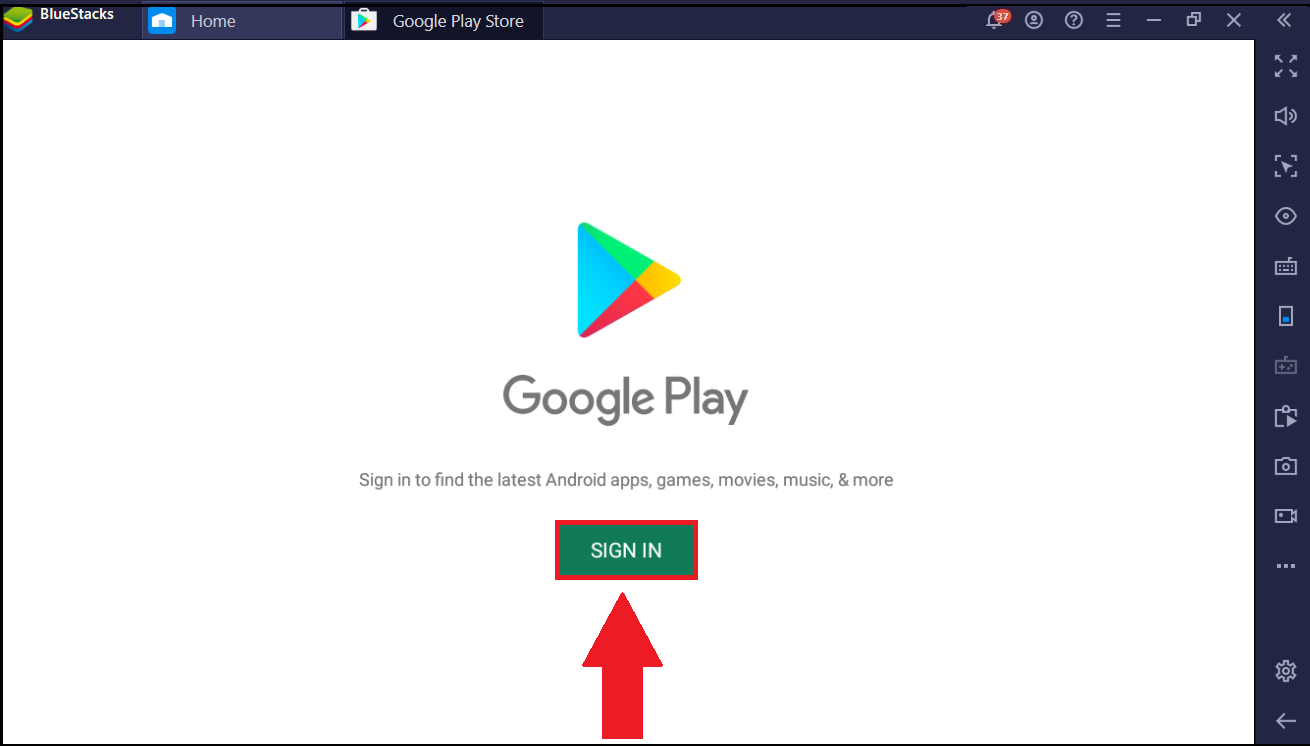 3. After loading for a few seconds, the Google Sign In page will appear, as shown in the image. Enter the email address linked with your Google account and click on the Next button.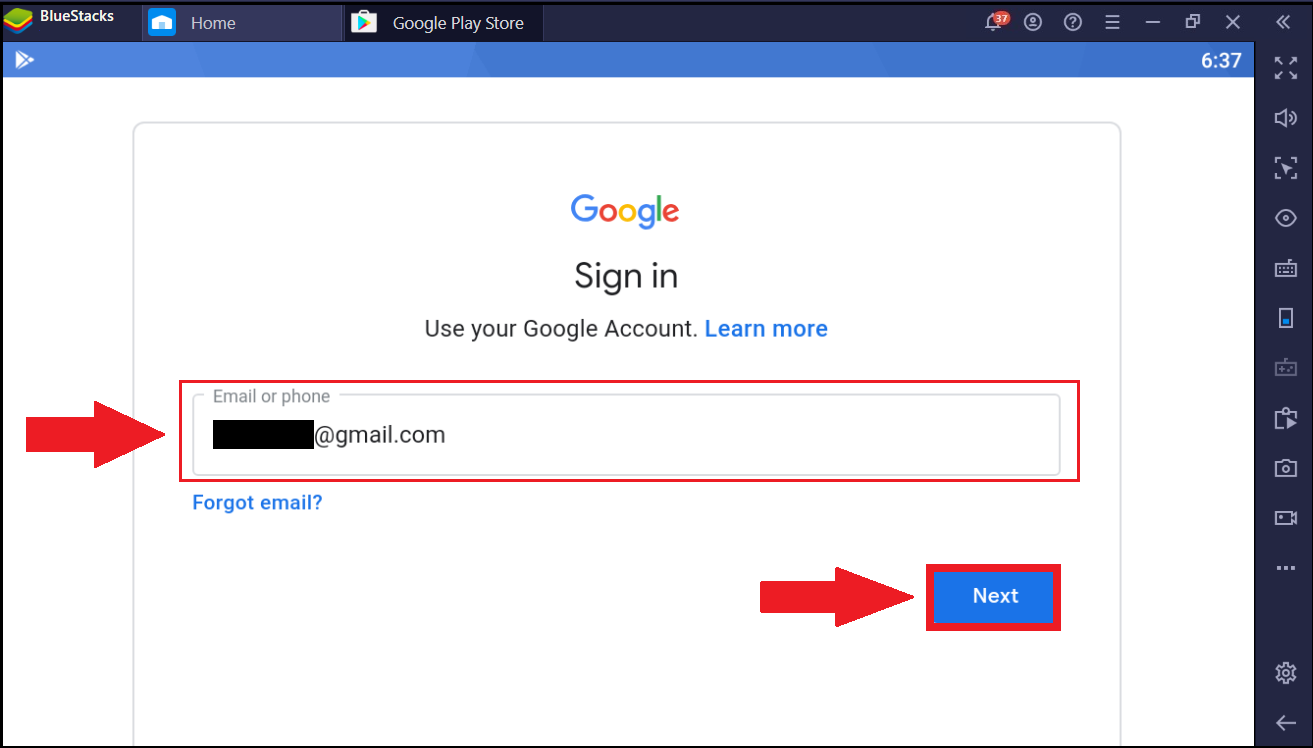 4. On the next screen, you will be asked to enter your account password. Enter the password and click on Next.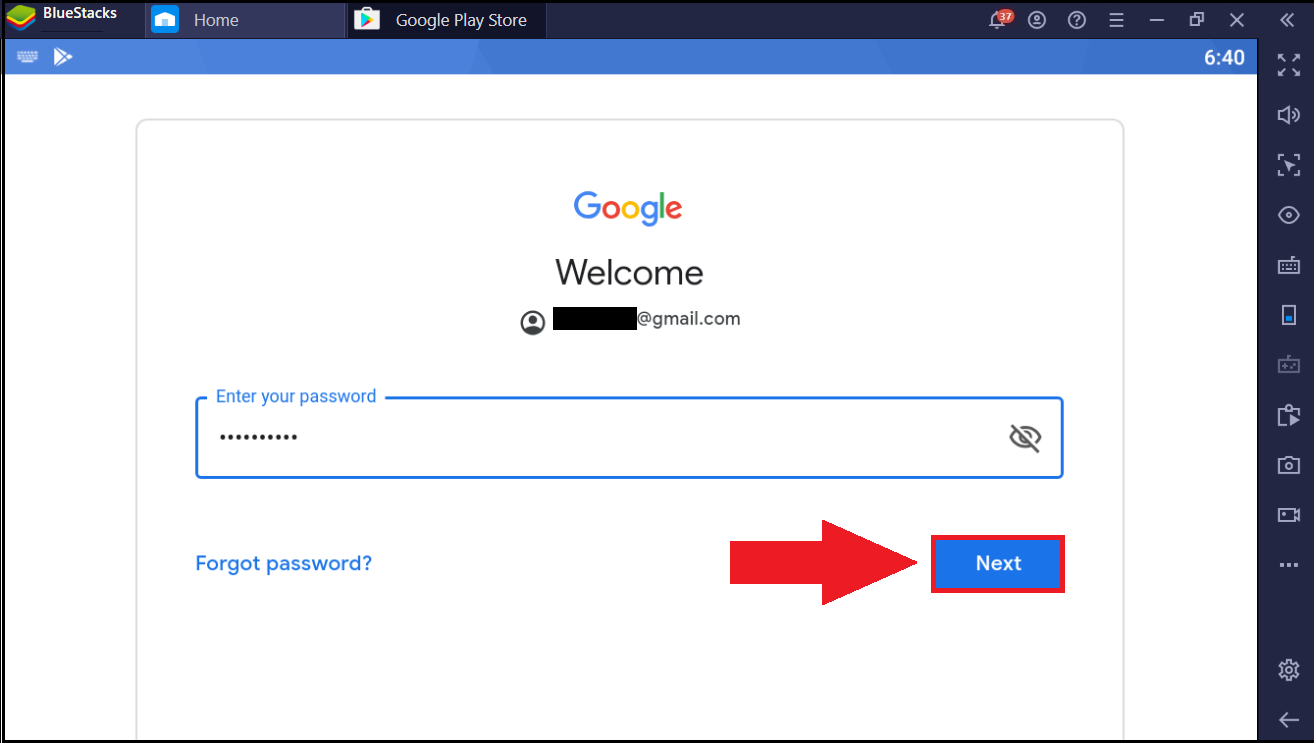 5. Now, you will see the terms and conditions for using a Google account. Click on I agree to proceed further.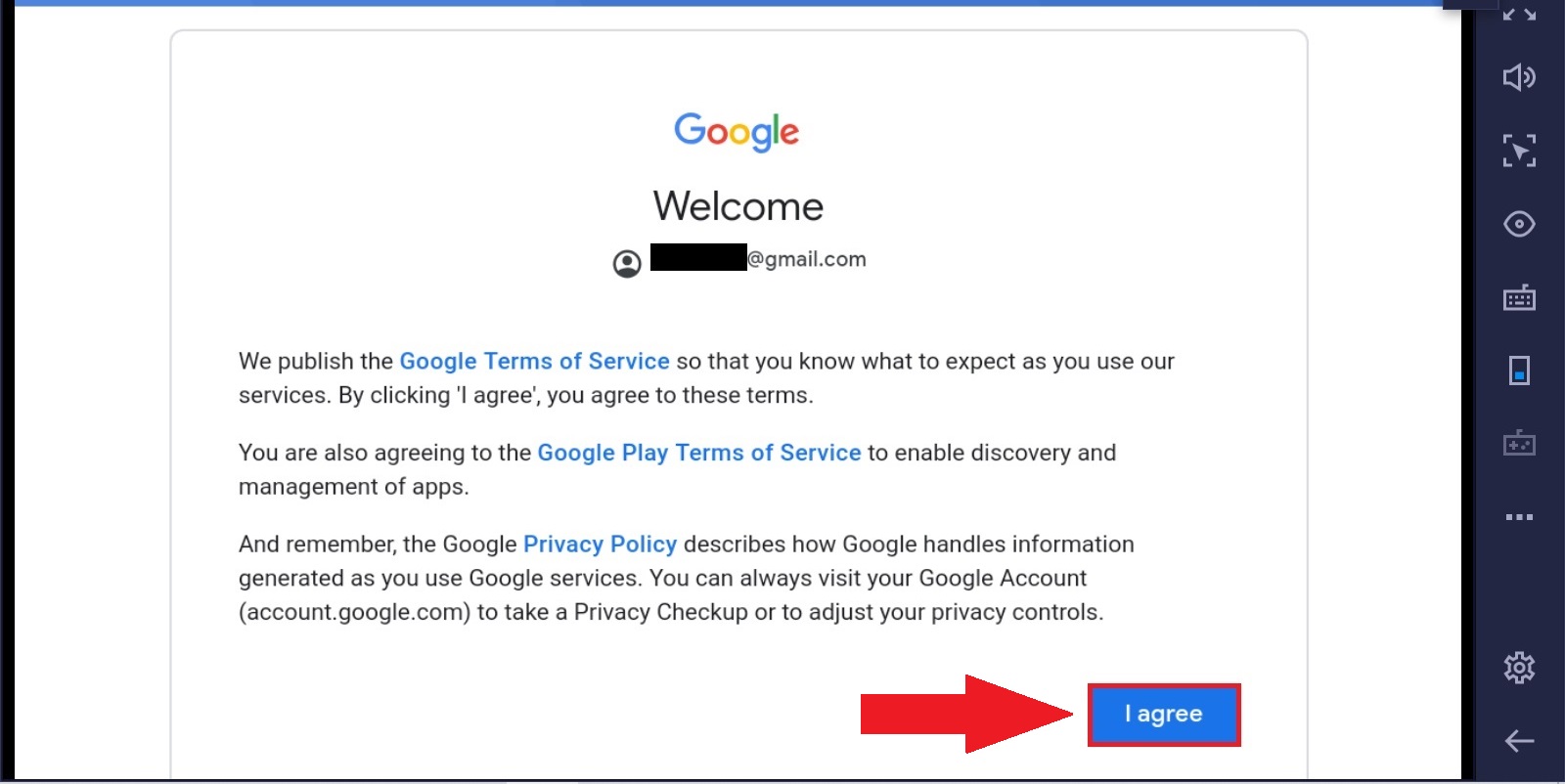 6. It will ask you to create Back up on Google Drive. If you wish to do so, keep it turned ON, otherwise turn it Off by clicking on the slider, as shown below.
Then, scroll down and click Accept to start using Google services on BlueStacks.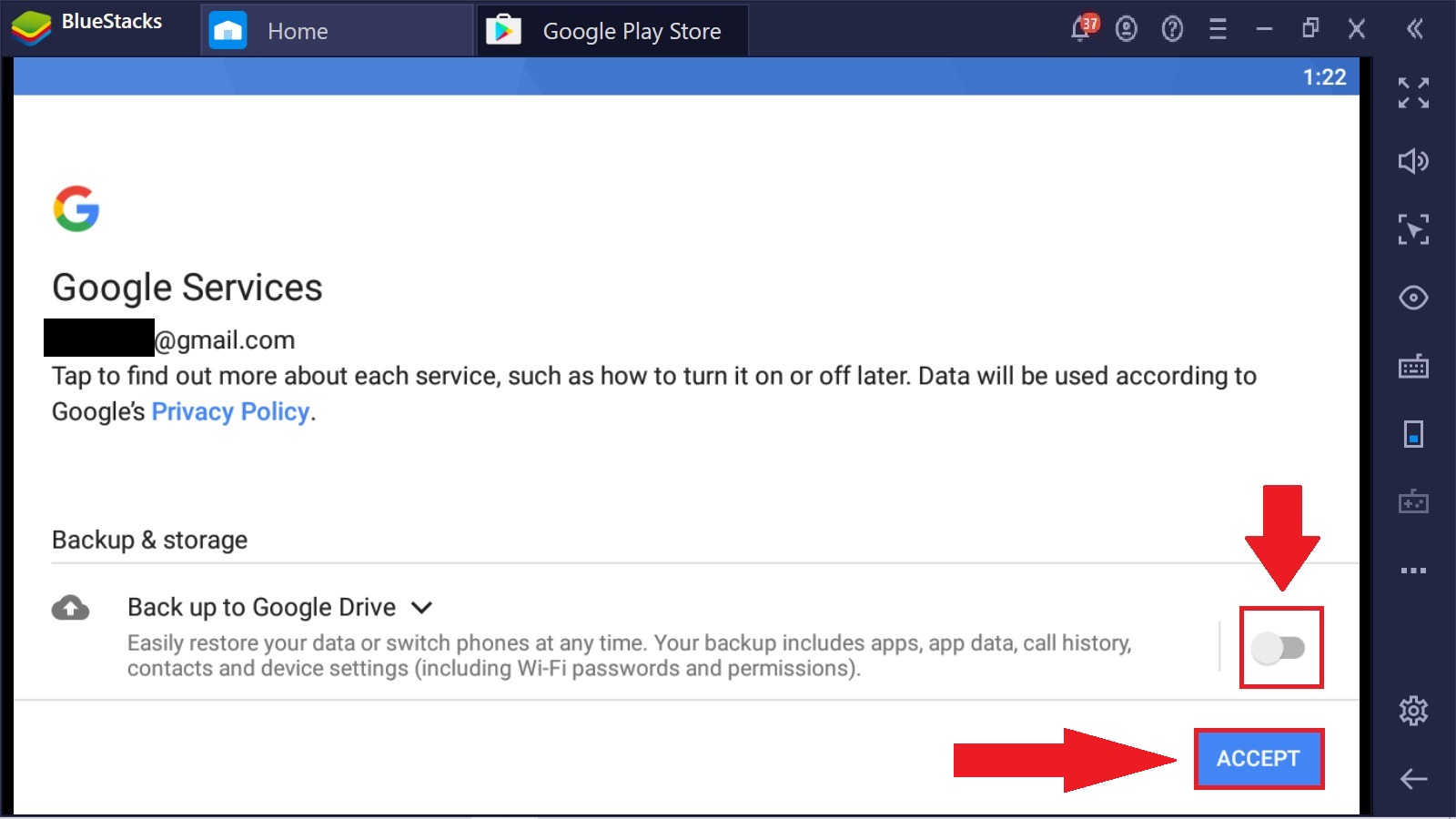 NOTE: After you sign-in on BlueStacks with your Gmail account, you will receive an email from Google, informing you about a new device signing into your email, as shown below.
This is completely normal and you may ignore this email. This message confirms that your login on BlueStacks was successful with the email address that you had provided.
7. Now, you are good to start exploring millions of games and apps from Play Store and other services from Google on BlueStacks.