Create virtual drives on your computer with UltraISO
Video Create virtual drives on your computer with UltraISO
Related article
ISO format is a compressed file format familiar when you download large files from disk on the network as software, game, movie ... this compression format has many advantages than conventional compression to Zip, RAR ... To use this iso file ways taimienphi.vn also had some tips article with the format, but ordinary users to choose how to read them from the virtual drive software just to be able to use both facilities in storing, sharing again later. Article will guide you how to create virtual drives UltraISO software and use this virtual drive to read and use iso file or a disc image file of your specific. You follow the steps below.
Guide created virtual drive with UltraISO
Step 1 : Download and install the software UltraISO computer.
You can download the latest version of UltraISO here:Downloads UltraISO
This application is relatively simple to install, you just press Next a few times under the guidance of the program is to be
- After installing the software UltraISO on the computer, go to Computer will see another new CD Drive. If you have a closer look will recognize differences in symbols between CD / DVD drive real and virtual drives. So you have to create virtual disks for computers successfully.
Step 2 : To use the virtual drive to read the iso file of the software, games, movies ... you start the program UltraISO by Double Click on the icon outside the desktop Desktop, then click and menus Tools , select Mount to Virtual Drive ... or press F6
Step 3 : Click the red spot zoning as on illustrations
Step 4 : Here you seek to loosen up and select the .iso file is to use and then click Open. In the example is 15.2 Hiren's disk.
Step 5 : Finally you click Mount
After pressing Mount, some machines will feel slightly trimmer 1 2 seconds. Then you press Close .
Step 6 : Return check you on Computer Drive will see new CD contains Hiren Boot disc. Now that you have successfully Mount virtual disks.
From there you can use the virtual drive like normal CD drive attached on the computer. Click to select and manipulate the files inside it.
In the framework of our article was to guide you how to create virtual drives and virtual drives by using the software UltraISO. The software interface is intuitive and relatively easy to use even for the first time working with this format. If you have higher demands you can refer to the virtual drive software professional and stronger as PowerISO , Daemon Tools, Alcohol 120% ... or refer to the top 5 software to create the best virtual drive available in Taimienphi.vn to create multiple virtual drives on your computer.
Update new 2021:
Use Ultraiso software to create a virtual drive on Windows 10
Using the utility available in Windows 10 to create a virtual drive has a slight advantage of not having to install software, but it requires a little more manipulation. For UltraIso software, work Create virtual drive on Win 10 a little bit simpler. You do the following:
Step 1. First you need to download Ultraiso on your computer, to activate the copyright you can find more documents on the Internet.
Step 2. After downloading, proceed to install Ultraiso software as usual. After that, the software will automatically create users a virtual drive as shown below.

Step 3. You open Ultraiso software, the software's working interface is as follows.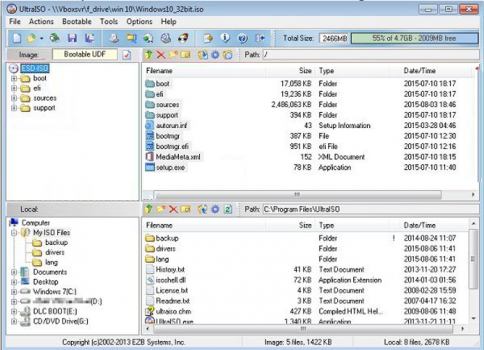 By default, Ultraiso has created a virtual drive for you, if you want to create more than one, follow the instructions below.
Step 4. On the main interface of Ultraiso, you click on Options => then select Configuration .. => continue to select the Vitual Drive tab in the new window => and select the number of virtual drives you want to create. (up to 8 virtual drives can be created).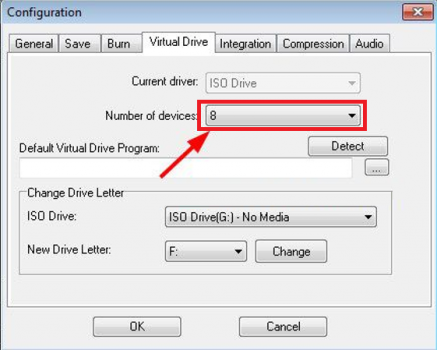 As a result, we created 8 virtual drives on Windows 10.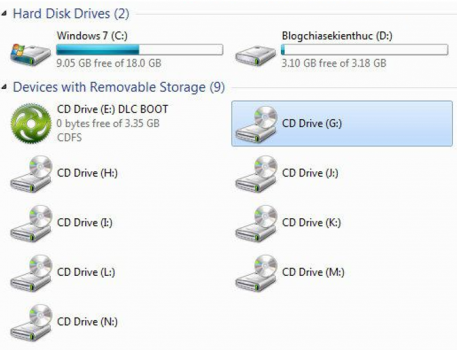 Delete virtual drives with Ultraiso
Create virtual drive on Win 10 was that simple, erasing virtual drive with Ultraiso is equally easy. By clicking Options on the main interface of the software => select Configuration … => continue to tab Vitual Drive => continue to select None in the section Number of devices is OK.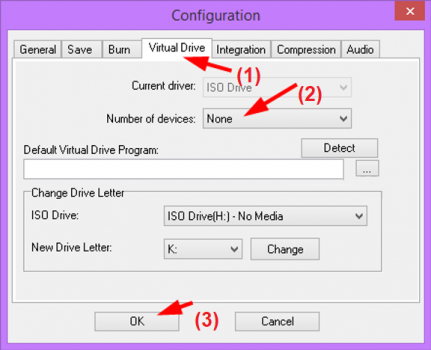 How to mount the .ISO file to a virtual drive
You do one of the following 3 ways to Mount * .iso file to a virtual drive.
a. The easiest is to right-click the * .ISO file to Mount => then select UltraISO => click to Mount to drive X: (where X is the virtual drive letter you created in This PC).

b. The second way, you just right-click on the virtual drive => click UltraISO => then select Mount … => and select the path to .ISO file is OK.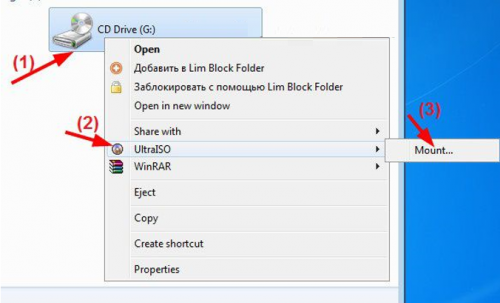 c. The third way is equally simple, when you just need to click Tools => and then select Mount to Virtual Drive or press the key F6 => Find the path to the iso file, select it => then select Mount and the program will automatically work.