Numbered pages in Word 2007, Word 2010, 2003, 2013
Related article
Using Word at work as well as learning the routine for many people. And you already know how to insert page numbers in Word documents automatically? But not everyone knows pagination optimal and most efficient (not hit or not hit the front page of the unnecessary parts, ...). The following tips will help you use Word to page a more efficient manner as well as to overcome the current questions of you.
If your document needs to skip the first page numbered some as catalog, the cover of the thesis may refer to the article by pagination in any word from a page
Guide page numbering in Word 2007, Word 2010, 2003, 2013
For Word 2007
Note: The page numbering in Word 2010 and 2013 and you do the same Word 2007 .
To insert page numbers, go to the tab Insert choose Page Number in the Header and Footer group.
Select the location to insert the page, below the figure put page numbers below each page: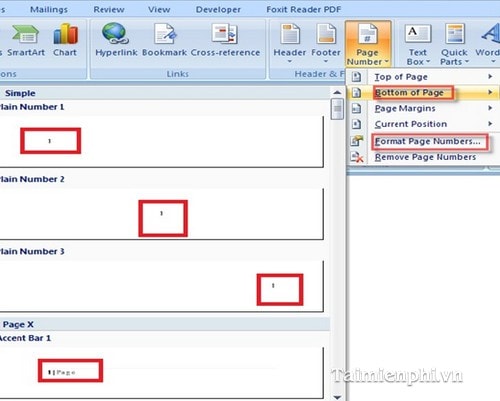 You click Format Page Numbers ... to set the desired options in Word 2003. Click as Remove Page Numbers to remove the insert pages.
For Word 2003
Step 1: You open up Word 2003 and the tab Insert , select Page Numbers ...
Page Number dialog box appears, select the location for the page to appear in position Position , may be on ( top of page ) or below ( bottom of page ), depending on your purpose. Section Alignment lets you choose the type of alignment to the newly inserted pages. Preview function lets you preview the results for each option.
Check the Show number on first page , it will skip the first page of your document.
Step 2:
Click Format ... to display the dialog box Page Number Forma t as follows: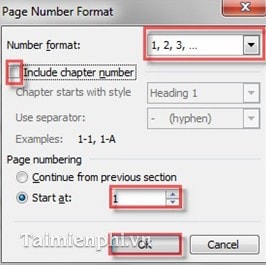 Select the type of display for the number of pages in Section Number format , may be: 1, 2, 3 or -1-, -2-, -3-, ...
Select the Include chapter number if you want to add titles (headings).
Start at the page number you want to start the current text. You can type some arbitrary purpose. After selecting the desired function, press OK to agree.
Attention

Where to hit different types of pages for each section of text, to make Break between 2 sections ( Insert / Break ... / Next Page ) and choose the format desired page. You remember shortcut link to the front by double-clicking the page in section 2 and deselect the Link to Previous .
Editor in Word to use on the job or in school, the numbering will not be confusing nor impossible not to mention pages numbered documents in the file. Above us fairly detailed instructions how to insert page numbers in Word documents with many different circumstances, with Excel you can reference a page numbering in Excel .