Show Ruler, a ruler, align bar in Word
| | | |
| --- | --- | --- |
| OctaFX Broker | No Swap, Top 1 Malaysia, Indonesia | |
| IQ Option | Top 1 binary option, Give $10,000 demo account | |
| Vultr VPS | Start $2.50/month. Give $100 today | |
| Nord VPN | Get 70% off | |
Related article
When you need, align or reformat the text, the ruler bar (Ruler) in Word is an indispensable tool. But when you need to, then do not see it anywhere. To display the ruler in Word you already know how to do yet? You are invited to join us for the following article.
Guide ruler on Word 2003/2007/2010/2013
Show Ruler function in Word 2003
Download and install Office 2003
Step 1: To display the ruler, click the menu View , choose Ruler of range drop-down menu.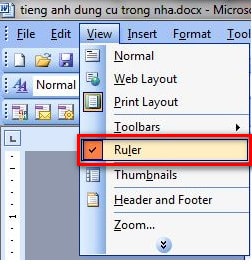 Step 2: If you want to display the vertical ruler in text view, you click Tools , then select Options ... in the drop-down menu sequence. Window Options appears, select View and check the position Vertical ruler (Print view only) among the Print and Web Layout options . Click OK to finish.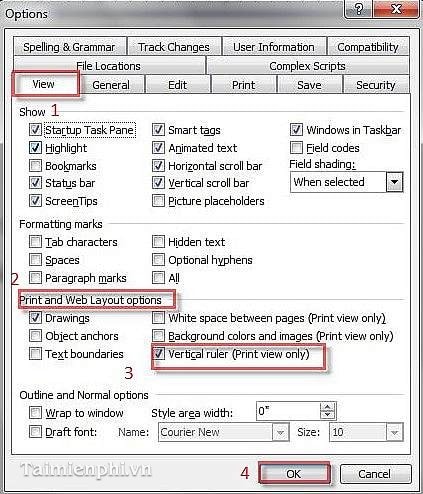 Show Ruler function in Word 2007
Download and install Office 2007
Option 1: You click on the tab View and select the icon Ruler as shown below:
Method 2: Click on the View Ruler above the vertical scroll bar to the right of the screen editor Word.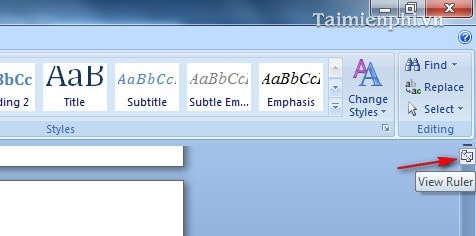 Method 3: If performing only 2 ways on which each horizontal rulers appear, no vertical rulers, you do the following:
Click on the Office Button in the upper left of the screen Word, then choose Word Options (fast printing shortcut Alt + F then press the letter I )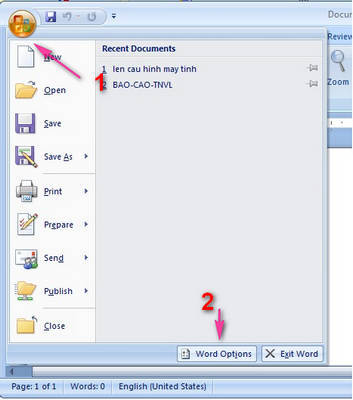 Next, choose Advanced in the left hand menu sequence. Drag the slider in the right pane down, looking to the group Display , mark the line before print Show vertical ruler Print Layout view and click OK to complete.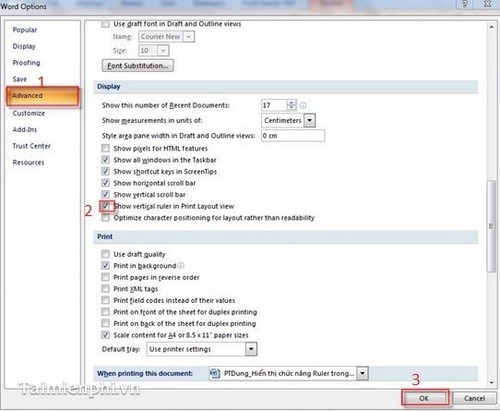 Show Ruler function in Word 2010
Download and install Office 2010
Step 1: First, you open up Microsoft Word 2010, select the tab in the toolbar View and select the Ruler to display the ruler on Word.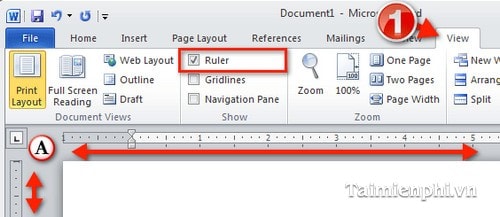 Step 2: After selecting Ruler finished area, then you can open Word Option up and install the units for the ruler as: inches, centimeters, ....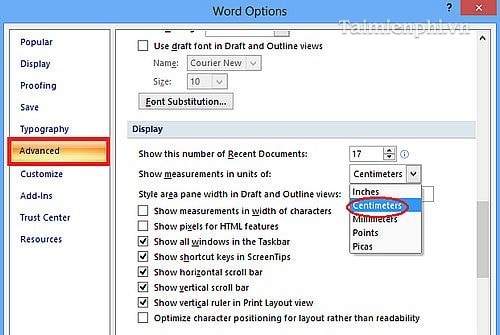 Show Ruler in Word 2013 functionality
Download and install Office 2013
Similarly in Word 2010 to display the Ruler function in Word 2013 and you also choose View and select the Ruler to display the toolbar to Word
So I instructed you how to display ruler on Word 2003/2007/2010/2013. After performing the steps above ruler has appeared on the Word editor interface, you can return to the Word interface to see the change. Qing rulers have a very important role in the process of re-writing format, allowing you to manipulate more effectively. In addition, the way in Word alignment by the user as well as the presentation text round
During save and use Word file, many times you'll wonder why not see the tail of word file as DOC, DOCX or not displayed. Do not worry, fix symbol word lost very easily, you just made ​​a few steps that can fix this problem.
| | | |
| --- | --- | --- |
| OctaFX Broker | No Swap, Top 1 Malaysia, Indonesia | |
| IQ Option | Top 1 binary option, Give $10,000 demo account | |
| Vultr VPS | Start $2.50/month. Give $100 today | |
| Nord VPN | Get 70% off | |