Use IDM to download Driver on DriverEasy Driver
Video Use IDM to download Driver on DriverEasy Driver
Related article
DriverEasy Driver detection application and allows you to download the missing drivers on the computer to update it. There is another way that is used to load IDM Driver on DriverEasy
Additionally, you can download Driver Booster, DriverPack Solution, 3DP Chip - are looking for software support, automatic download and install the missing drivers for your computer in which 3DP Chip supports very good job download and install drivers for your computer
Guide to download Driver on DriverEasy IDM
Prepare:
Your computer needs to have 2 programs and DriverEasy IDM.
IDM You should download the latest version to support better links catcher, download IDM
Using the latest DriverEasy Driver update better: download DriverEasy
Step 1 : Integrate IDM into DriverEasy
Open up the IDM program, on the interface in Options
- In the window that appears, choose to tab General and click Add Browser ...
- Click OK in the next window
- In the next window choose the path to the executable file of DriverEasy C: \ Program Files \ Easeware \ DriverEasy \ DriverEasy.exe . Finally click Open
Step 2 : Restart the computer
Step 3 : Run the program DriverEasy up, the software will automatically scan your computer, display the Driver missing or need to upgrade to the new version. You click on the Download side need to download PC Driver.
- Downloading window appears, click Cacel .
- Back interface DriverEasy click in the next Driver Download to download. Then the interface appears IDM allows you to download Driver by IDM. Click Start Download to download the computer.
Above, we have instructions on how to download DriverEasy Driver with IDM, with this approach you can download the missing drivers for the fastest computer. Besides using DriverEasy for updates, search for your computer Driver may consult and use the DP Chip download , download Driver Booster or download DriverMax also very effective.
UPDATE NEW 2020
The trick to integrate IDM into DrvierEasy for high-speed downloads
With the free version, DriverEasy allows you to download the driver with a tortoise level (40KB ~ 80KB), while the Pro version is 500KB ~ 20MB.
However, we can combine IDM download acceleration software into DriverEasy to download with the highest speed. To do this, do the following:
+ Click Downloads=> selectOptions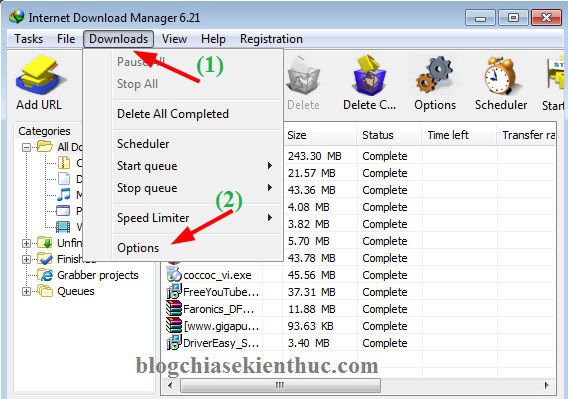 At the tab Generalyou choose Add Browser...=> a dialog box appears => click OKto agree.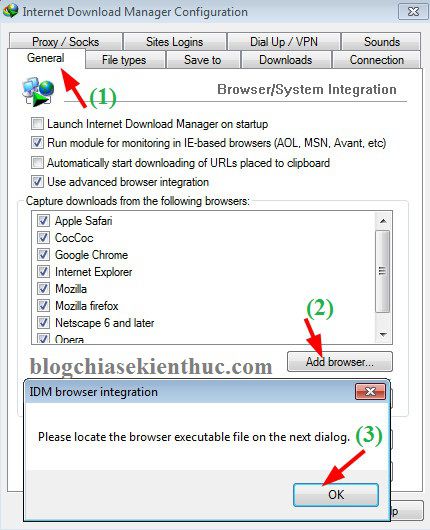 Another dialog box appears, now navigate to the installation directory of DriverEasy. You can search at the following address:
C \ Program Files \ Easeware \ DriverEasy.
Select file DriverEasy.exe=> and click Open.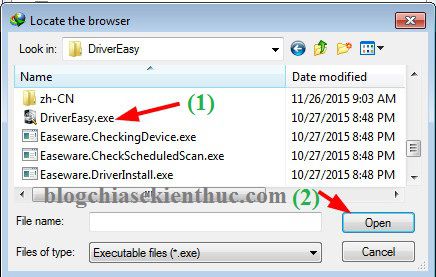 Check the line DriverEasy=> and click OKto agree.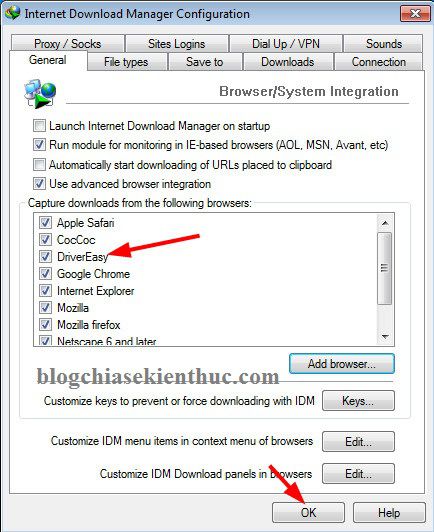 Done! So from now on you can download the driver with Maxspeed already đó
Note: If you use the Pro version, go to Tools => Driver Backup to backup all the drivers on the computer, but if you are using the free version, please wait for your next article, I will guide you on how to back up the computer driver with another software.
UPDATE NEW 2021
Driver Easy will scan your computer, tell you what drivers are missing or outdated, then download them all.

Driver Easy's huge driver database is supported by over 3,000,000 distinct driver databases with Daily Driver Updates, keeps all drivers in your computer up-to-date so that to maximize PC performance. It will also keep your existing drivers up-to-date as well as fix most common driver issues. Using Driver Easy, you do not need to spend hours trying to find drivers at random (and sometimes sketchy) sites on the Internet. Driver Easy is designed for saving your time and fixing any related headache driver issues.

It provides you safety Offline Scan for offline computers. It lets you save a driver analysis file on a machine without an Internet connection as well as assisting you to download a driver from an Internet-enabled computer. The Offline Scan feature provides you with an easy and fast way to locate the right network driver for your machine.



You can fully backup/restore with Driver Easy; it offers a professional solution for device drivers' backup and restoration in Windows. It can also identify all the hardware in the system, extract their associated drivers from the hard disk and then back them up to a secure location. There is also a Windows Update tool included. And with the smart download server picker and 2 ~ 5 concurrency download, Driver Easy allows you to download and install windows update faster than ever.

Driver Easy also features Uninstall Removed Hardware Driver; this option is perfect for when you install a new graphics card because Windows retains the current driver and attempts to launch it each time Windows starts up. This process can cause the system to boot up slowly as well as causing other system conflicts. The Driver Uninstall feature permits you to fully uninstall the removed hardware and clean up your system for the best possible performance.