How to create a windows installer from USB
The installer created from usb windows 10 is also very simple and easy to implement, just a couple of clicks you have a usb disk functions as a true set win. Please refer to our latest post on how to perform offline.
As before we had the opportunity to introduce to you how to create windows installer 8.1 from usb , then with this article we will guide you how to create presets from usb windows 10 software Windows 7 USB / DVD Download Tool, refer classmates offline. HOW TO CREATE THE SETTINGS FROM WINDOWS 10 USB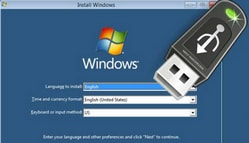 Step 1: Format the USB, you can Download HP USB Disk Storage Format Tool to install on your computer to format or use features available on Windows. (Here we use the features available on Windows) After a USB connection to your computer, right-click the icon and select Format USB. Click Start to begin the cleaning process USB. A warning will pop-up notification that will lose data Format.Click OK to continue.
Step 2: Run the Windows 7 USB DVD Software Download Tool. In the main interface, click Browse to find the ISO file installation of Windows 10. After selecting the Windows 10, click Next to go to the next step.
Step 3: You select the USB device to select your USB device.
Step 4 : After selecting your USB device, click Begin copying to begin the process of creating the Windows 10 for the USB. Next, you have to wait 10 to 15 minutes to reach the computer to copy the data to create the installer for USB. Coming here, you have one of the USB drive containing Windows 10 to use. So, with articles on we guide you how to create an installer from usb windows 10 software Windows 7 USB / DVD Download Tool to use use the time to reinstall your computer, you refer to can be done correctly offline.