Instructions on how to use Microsoft Teams to teach and work effectively
Microsoft Teams is your online chat, meeting, calling, and collaboration app, no matter where you are. Microsoft Teams is one of the online teaching software used to teach and work online to help your team maintain remote work and improve work efficiency. Join WebTech360 to learn and how to use this software right below.
main content
1. Why use Teams to teach online and work from home
Microsoft Teams is one of the applications to create an effective online workspace, teaching and learning integrated with Microsoft's Office365.
https://youtu.be/nKU-FMzZFF0
Here are some reasons why Teams is gradually becoming the most favorite tool of office workers and students during the COVID-19 season:
Learn on multiple devices with high security: Teams can be accessed directly on the web, installed on computers (both PC and MAC), downloaded on mobile devices. However, for the most convenience and full use of Teams features, you should install and use it on your computer.
Free to use for 6 months: Teams was released in 2018 with two free and paid versions (with many advanced features). However, from the beginning of March 2020, this paid version will be released by Microsoft for free for users for 6 months to support the community.
Microsoft Teams Meeting integrates many work tools: Not only has the ability to conduct meetings via video calls, store documents, this application also integrates with Microsoft Office 365 office tools to help you optimize work to the highest level, improving the effectiveness of teaching and group work
You can use Teams on most popular platforms:
However, to download the software to your computer, or the app to your phone, you need to register for an account successfully.
2. Instructions to register for a Microsoft Teams account
To sign up for Microsoft Teams for free you need a Microsoft account first.
If you don't have a Microsoft account, sign up at: https://account.microsoft.com/
You can use your Gmail.com address or your personal phone number to sign up for a Microsoft account.
Also if you already have emails from Microsoft like @Outlook.com, @live.com, @hotmail.com is already a Microsoft account. Note that if you register by school, you should use the email provided by your school to log in.
Once you have an account, go to: https://products.office.com/en-vn/microsoft-teams/group-chat-software select "Sign up for free" and choose to register for Teams according to the purpose. use.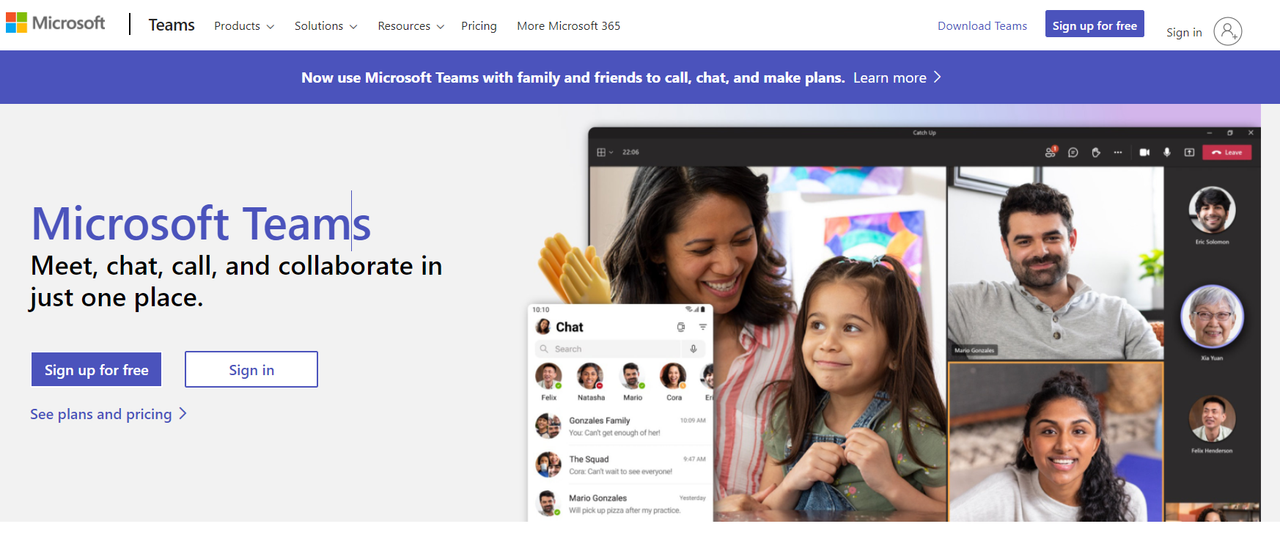 Enter your personal Microsoft account Email or the email provided by the school to log in => Enter the password of your Microsoft account.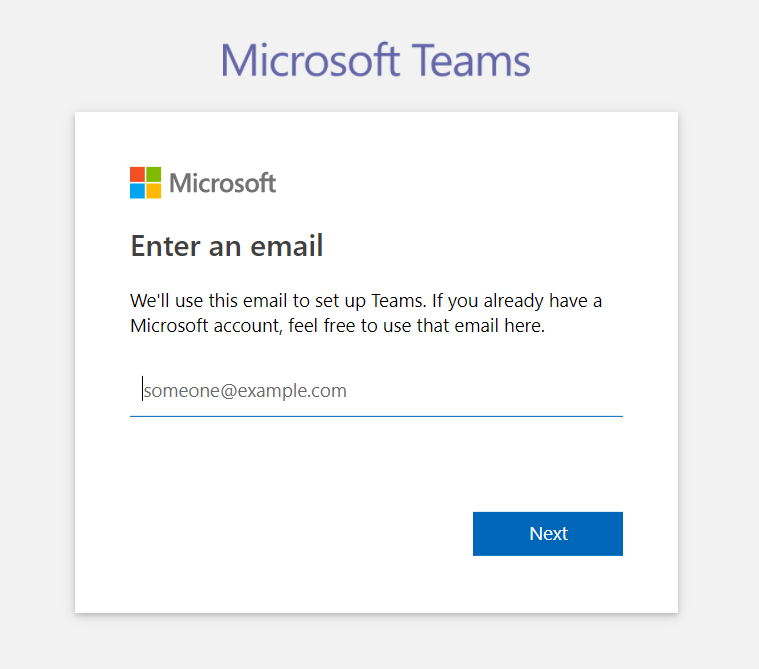 Enter your company name/Select your Country or Region. And wait for Microsoft Teams to set up an account for you.
3. Download Microsoft Teams
Here is the link to download Microsoft Teams to install on computers and smartphones to teach - learn and work from home:
Once downloaded, use the account you created above to log in and start using Microsoft Teams following the instructions below.
4. Instructions for using Microsoft Teams for online teaching
Teachers and students can refer to the detailed instructions on using Microsoft Teams for teaching below:
4.1 How to create a class / Join a pre-made class
To create a new class on Teams you can follow these steps:
Step 1: At the interface of Microsoft Teams, select Teams => Join or create a team (Join or create a team) in the upper right corner of the screen, then click the Create Team button.
Step 2: Select Class, then enter the class name and a brief description of the class information and click Next.
Step 3: Once you have a class, you can add students to the class by:
Send the code for students to enter on their own (get the code by going to the group and select: Manage teams => Setting => Team Code).
Teachers can add students by themselves: Go to the group and select Add member => Enter student's email => Add
In addition to creating large classes "teams", teachers can create smaller study groups "channels" in the classroom.
Join the class on the team
For students, once the teacher has sent the class code, they can join the class on the team by themselves:
At the interface of MicroSorft Teams, select Teams => Join or create a team (Join or create a team) in the upper right corner of the screen, then select Join a team with code => Enter code => Join team.
4.2. MicroSorft Teams functions for teaching for teachers
First, let's learn the interface of a group and the corresponding functions:
To conduct a lesson on Teams, what actions do teachers need to perform? Here are the most detailed instructions:
Conduct online lectures via the Meet Now feature
Step 1: Go to the group => Post => select the Meet icon at the bottom of the screen
Step 2: Enter the content/title of the lesson => Meet Now to start the lesson
Step 3: Teachers can turn on/off the camera and share the screen to present in PowerPoint teaching
Upload materials to the classroom
To upload class materials, teachers follow these steps: Go to the group => Posts => Upload Class Material => Select Upload => Select the file to upload and click Open (Open)
Assign class assignments/Create tests on Teams
Go to the group => Assignment tab => select Create
There are 2 types of exercises for teachers to choose from: essay (Assignment) or multiple choice (Quiz), then teachers can compose the content of the exercises directly on MS Office365 Teams.
Note: when assigning lessons to students, students will receive notification messages via email, learning Teams notifications on mobile phones.
Grade assignments
If it is a multiple-choice test, the student's score will be automatically graded on Teams, while the teacher's essay form will automatically grade it. To grade this lesson, teachers choose Grades => enter scores directly for each student.
4.3. How to use Microsoft Teams for students, students
Once you have entered the classroom created by the teacher on Teams, students can use a number of Teams features to make learning more effective, such as:
Download lectures and reference materials: To download lectures and some study materials, you can perform the following steps: Go to the class group => select File tab => Right click on the file you want to download => select Download
Join online lecture: When the instructor starts the lecture, students will receive a notification => click on the online lecture => Select "Join" and start the lesson.
Do exercises/tests on Teams: Go to the Assignment tab => Select the exercise to do. Select Submit when you have completed the assignments.
View assignment scores: The grades of the exercises will be placed in the Grades tab after the teachers have graded them.
5. How to use Microsoft Teams to work from home
WebTech360 will introduce you to the basic functions that can be applied when working online with a team via Microsoft Teams Meeting:
5.1. Create a Teams/workgroup
When you start working on Teams, you need to set up a separate working group equivalent to a project, a department in fact. Do the following:
On the interface you choose "Join or create a team" (Join or create a team) in the top right corner => select Create Team / Create Team. Then enter the team name and a description of the team.
Each Team will have smaller channels called Channels that will be automatically created. Multiple channels can be created in a Team. For example, you can create a "Marketing" team, in which there may be smaller divisions such as "Social Media", "Content Marketing"…
Along the left side, you can navigate to different areas in Teams. Such as Chat (Chat), Meeting (Meeting), Files (Files) and Activity (Activity).
Invite members to the group
After creating the group, you can invite members to the group with the following actions: Click "Invite people" in the lower left corner, you can directly enter your friend's name or choose to get the link to go. invite friends, or send invitations via email…
5.2. The main functions when working on Teams you need to know
Chat: Teams allows members to chat back and forth with a full chat history. To chat privately with a person/group, you can Click on the New chat section, type the name of that person/group in the "To" field, write your message and press Send to send.
In particular, when texting in a group, you can use @nickchat to tag people in the group or the whole group when you want to announce or assign something. The person in question will be notified and clearly seen in the conversation. Like the chat feature of other social networks you can also 'like' content and share emojis or GIFs.
Make Online meetings (Meeting): When you need to conduct online meetings connecting many people, you can follow the steps below:
Click Meet Now below your message area to start a meeting in Teams. Enter a name to join the meeting, and then get started. You can also use features such as screen sharing for presentations, chats, etc. in the meeting.
You can use the Meeting Tab to sync your meetings from Outlook and also allow you to schedule meetings in Meetings sent to Teams. If you want to schedule other meetings with external users or individuals, you will still need to use Outlook, as the Teams meeting tab is only for scheduling meetings in Teams.
Store Files: Go to Team and select the File tab – this is where you can manage important files of the team. Includes actions: delete, download, move files, open, copy, edit or get links to share with others.
In the File tab, you can quickly find and view files on OneNote, OneDrive, and in Teams. There is also a very useful tab Recent tab so you can quickly access the latest documents saving time searching.
Microsoft Teams Business Notes: Teams Notes can be synced with the MS OneNote app. In Teams, you can view and edit your OneNote, or vice versa.
Add Tabs: To work efficiently, you can add new tabs like Planner, Excel, Word, Power BI, etc. All the other Microsoft applications can easily be added to support your work: save time, avoid distractions, improve work efficiency.
6. Upgrade Microsoft Teams to premium version bản
Microsoft Teams is currently offered by Microsoft in two forms, Teams for free and Microsoft Teams premium (Premium) included in the Office 365 solution package for Business and School.
To upgrade your account and experience the outstanding features of Microsoft Teams in the Office 365 suite, visit the address below:
https://products.office.com/en-us/microsoft-teams/compare-microsoft-teams-options
6. Summarize the advantages and disadvantages of Teams
Let's review the outstanding features and necessary notes when using MS Teams in the table below:
Advantages
Defect

Simple interface helps users to focus, not to be distracted
Combined with Office 365, the exchange of files, add more Excel work applications, ...
There are free packages and paid packages are also being supported for 6 months for free during the epidemic season.

Chat interface takes up a lot of space
Creating tasks on Teams with short descriptions is difficult when encountering tasks that need detailed descriptions
Hopefully, the detailed instructions on how to use Microsoft Teams above will help everyone for learning - working from home. If you have any questions, you can comment below, WebTech360.com will answer your questions as soon as possible.