How to delete data in NoxPlayer
Video How to delete data in NoxPlayer
Managing NoxPlayer data or deleting data in NoxPlayer is a way we regain free space and use this Android emulator more efficiently and logically.
Rated as one of the best Android emulators today, NoxPlayer is not only a tool for computer users to install and use Android software and applications, but also can operate on it as a Virtual mobile device, extremely handy.
Delete photos and videos in NoxPlayer
Step 1 : You start the NoxPlayer emulator on your computer. From the main screen, select Tools / Downloads .
Step 2 : In this interface, you will see all the data that you have downloaded from the web on the simulator .
For example, we will try to delete images in NoxPlayer , you just need to left-click on the image to be deleted, hold for a while to select it, then select the trash icon to perform.
It is possible to delete multiple photos at the same time, the number of images selected for deletion will be displayed above.
Another way we can delete data on NoxPlayer is from the emulator's main interface, left-clicking File Manager .
Here, we also search the following path to find the location to save the downloaded data or transfer from computer to Nox :
Storage / emulator / legacy / Download
Want to delete any data, just click on the box corresponding to it and then select the option icon above ( 8 dots ).
Actions window appears, click Delete selection to delete the selected object.
Or you can click and hold the left mouse button there for a while, the Action window also appears and just select Delete to delete.
When the Confirm deletion confirmation screen appears, select Yes to agree and No to return.
With other data such as videos, music ... we also do the same as how to delete photos on Nox to perform.
Eliminating data on NoxPlayer not only helps the emulator run faster and more stable, but also helps us regain free space and manage our data better.
Update new 2021
Clean up Cache to make Nox App Player run faster
Nox App Player is a fast and stable Android Emulator that intends to extend the fun of mobile gameing to PC. However, after running it for a while, you may need to clean up the cache (just like any physical Android phone) to release its full potential. And here's a step to step How to tutorial:
1. Go to Settings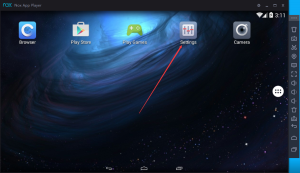 2. Click Apps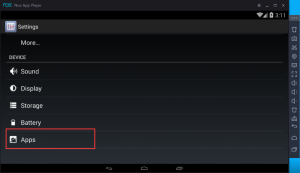 3. Slide the screen to the left and go the ALL, then slide down, find Media Storage and click it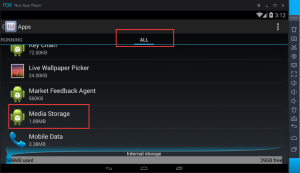 4. Click Clear data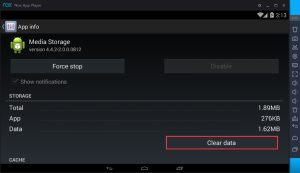 5. Click OK in the pop up dialogue box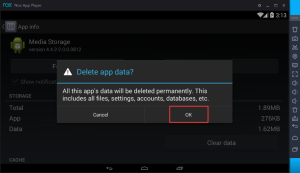 This will help clean up the cache and make Nox App Player faster. Of course, if you have downloaded other resource/system management or cleanup tool, you could use those to clean up the Player now and then as needed.